Kambi
 With a track record of being the leading B2B sports betting platform in both online and on-property sportsbook provision, Kambi is the partner operators can trust to provide the technology and services required to deliver a scalable and high-performance sportsbook that outcompetes the market. A sportsbook that offers meaningful scope for differentiation while at the same time optimising margin and player retention.
On the surface, there may be little noticeable difference between a good sportsbook and an excellent one. However, providing a first-class sports betting experience, with a uniform standard of high-quality delivery, requires a powerful core able to process high volumes of data and a supply chain capable of delivering on all levels. This begins with the integration of official data partners and proven algorithms that process the data, followed by excellence in trading and risk, which must all be supplied through a fast, stable and intuitive frontend. Only when these elements are working in harmony can an operator begin to deliver a best-in-class service.
Kambi's experience and expertise in compliance enables us to deliver this service to meet the needs of today's highly regulated market, giving our partners security of supply and peace of mind. In addition, our 24/7 sportsbook control team ensures all matters concerning sports integrity are handled proactively and swiftly, protecting our partners, their players and the sports we love.
Kambi have been top notch so far. We are very excited and happy with how everything is going.
Gavin Mercado, Executive Director, Seneca Gaming Corporation
They are able to differentiate their product to cater to the Colombian need. This makes us more confident in Kambi being our partner for the long term.
German Segura, CEO, BetPlay
Transforming the player experience
The Kambi sportsbook brings online pace to the retail space. On-property players receive just the same speed, breadth of options and deep in-play options they do betting online, with players from Europe, to the US, to Asia, all benefiting from the Kambi retail experience. 
A key component of our land-based offering is the Kambi kiosk, which has built a reputation for consistent player engagement in high-volume, terminal-based retail environments across the globe.
In the US, our kiosks have proved transformative to the manner which people choose to bet. With hundreds in operation across the country, they currently drive more than 80% of wagers at our partners' casinos. The traditional casino sportsbook has not been conducive to the fast-paced nature of in-play betting, but through the Kambi kiosk casino patrons can now quickly get their bets down on the next three-pointer in basketball or result of current drive in NFL.
Elevating the casino floor
Furthermore, our unique Bring Your Own Device (BYOD) technology enables bettors to view lines and construct bets anywhere, before scanning them in at a kiosk or counter using a QR code – thereby keeping physical touchpoints to a minimum.
Particularly effective in states where online wagering is not yet regulated, many of our partners are seeing up to 40% of on-property bets being placed using the technology, and alongside the Kambi kiosk our BYOD makes the sportsbook more inviting, quickens the player journey and thereby optimises turnover.
We work closely with our partners to deliver a bespoke, targeted blend of kiosks and over-the-counter services alongside modern digital signage, enabling our partners to leverage the power of their brands to drive greater share of wallet. 
For land-based casinos, the Kambi sportsbook has been shown to produce a sportsbook halo effect, elevating every aspect of the casino floor and increasing revenues across not just sports betting but also gaming and hospitality.  
Differentiation where it matters
Kambi understands the need for operators to be themselves, that's why at the core of Kambi's online offering is the ability to differentiate, enabling partners to be true to their brand and distinct from their competitors. 
Whether this is through creating a unique front-end through Kambi's open API's, adapting odds to suit local markets or utilising a range of marketing tools designed to acquire and retain players, Kambi partners have all the tools they need to realise their sports betting ambitions and become market leaders. 
Sportsbook with substance
Our powerful sportsbook core provides the platform upon which this can take place. Processing well in excess of half a billion transactions every month – on a technical platform which can be tailored to meet any local regulatory requirements, and in an environment that demands uptime 24/7 and 365 days a year – Kambi provides its partners with a sportsbook which can be relied upon to be available at all times. 
Stability even during significant spikes in volume is a hallmark of Kambi's offering, with a robustness and sophistication under the hood that cannot be underestimated.
Kambi recognises the value of inch-by-inch gains, and our commitment to continuously improving our products and services, combined with our understanding that minor adjustments can deliver major results, helps us to most effectively optimise our partners' online performance. It is a key reason why operators across the globe are looking to join the industry's premium sports betting network.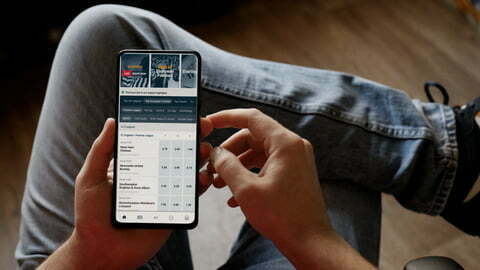 Kambi powers market leading brands across the world, using industry leading technology overseen by some of the brightest minds in sports and technology to deliver a seamless omni-channel experience – one that drives acquisition, boosts retention and ultimately springboards visionary operators to success across the globe, whatever the channel.
Our partners are able to cost-efficiently offer end users a premium sportsbook – one that delivers a best-in-class experience across mobile, online and retail. Our offering can be seamlessly integrated onto existing player loyalty schemes, and our ability to offer complete control over all player-facing elements gives our partners the opportunity to develop tailored products and functionality best suited to their end users and target market, confident that Kambi will look after the rest.
An interview with the BetPlay CEO
BetPlay has been a Kambi partner since 2017, enjoying rapid growth to become one of the most popular sports betting brands in the regulated Colombian market. We spoke to BetPlay CEO German Segura shortly before renewing with Kambi in 2020, taking a look at the operator's rise to become the leading sportsbook in Colombia.
Bring Your Own Device
Kambi's unique Bring Your Own Device technology is revolutionising the way bettors engage on-property, making it quicker and easier to place wagers, all while reducing queueing and enhancing cross-sell.
Introduction to Kambi
A brief introduction to Kambi, covering what we do and who we work with. Partner with confidence. Partner with Kambi. Reach new heights and join the industry's premium sports betting network.
On-property launch
Kambi has a noteworthy background of on-property success, and consistently delivers and supports smooth, swift launches for our partners. Click here for a look at the launch of the Parx Casino sportsbook in Philadelphia, featuring 18 Kambi kiosks and a 156-foot HD media wall.
Power of the network
Kambi is the industry's premium sports betting network. Data and insights into market movements and player behaviour from across every market in which Kambi operates are used to inform our strategy and benefit our service. Kambi has been trading sports and developing technology for more than two decades, and our extensive experience in regulated markets across six continents helps us to best deploy our expertise and technology for new and existing partners.
A fully managed service
Kambi takes care of the day-to-day operation of the sportsbook so you don't have to. From pricing and risk management to integrity monitoring and customer services support, Kambi has it covered.
Removing this essential but burdensome work provides operators with the freedom to focus on strategic planning and execution, and on the areas which provide true differentiation.
At Kambi, we understand we only succeed when our partners succeed. That's why we work closely with you, sharing our sportsbook knowledge and expertise to ensure a true and trusted partnership. As well as strategic advice from our dedicated partner success managers, we offer our range of managed services as standard, at no extra cost.
Who Kambi works with
Kambi's sportsbook technology is platform agnostic, and our flexible product and service model is already integrated with a number of the industry's leading third-party and proprietary platforms. Our partners have the freedom to select whichever platform best serves their needs, and as our record shows, Kambi can perform swift and hassle-free integrations with platforms of all shapes and sizes.