Having recently won the contract to overhaul Belgium's Loterie Nationale sportsbook capacities, Kambi Group Senior Business Development Director Sarah Robertson spoke to SBC News about why the sportsbook technology supplier is treating lotteries as a critical growth segment.
Sarah Robertson pictured in the centre (picture right)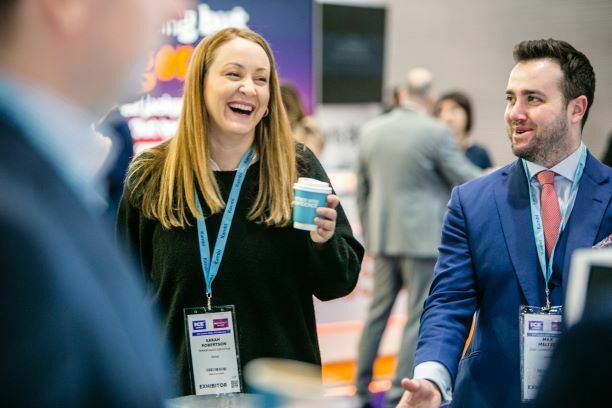 "Kambi's accomplished record and ability to support retail footprints of any shape is clear and was central to our selection by Loterie Nationale".
SBC: Hi Sarah, thanks for this interview. As a technology supplier, why is Kambi actively targeting national lottery incumbents? What are the challenges this unique sector brings?
Sarah Robertson: Central to Kambi's ethos is the ambition to partner with market leaders, or operators which have the potential to grow to achieve a position of market leadership with the Kambi sportsbook as a central component.
Lotteries tend to have a monopolistic background and are traditionally key players with trusted brands and large digital and retail footprints, and partnering with World Lotteries Association and European Lotteries accredited operators is an important target for Kambi, as an associate member of both organisations.
Lotteries are also highly regulated, and this chimes with Kambi's singular focus on regulated markets and proven track record when it comes to compliance. We have an unblemished compliance record, and the technical and regulatory experti­­se to launch our partners quickly in full adherence to all local requirements.
The high le­­vel of probity required to work with lotteries makes Kambi an excellent fit, alongside our leadership when it comes to sports integrity. We have consistently taken proactive steps to keep the sports we love free from manipulation, and protecting the integrity of sports is ingrained in the day to day running of our business.
It is increasingly recognised by progressive lotteries that an industry l­­eading sportsbook can be a crucial vertical for attracting and retaining players in markets where they are no longer have monopoly status.
We recognise the unique challenges that lotteries face, and the importance of the considered and highly structured public procurement process in our recent partnership with Belgium's Loterie Nationale was no surprise to Kambi. The lottery's reach, brand awareness, trust and market penetration mean the potential of a partnership far outstrips any challenges.
SBC: You recently led Kambi's successful tender to overhaul Belgium's Loterie Nationale sportsbook capacity. Is sports betting a conflicting service for national lottery incumbents to operate?
SR: Loterie Nationale recognised the need for a sports betting product capable of outcompeting the market, and we both see a great deal of potential in this partnership.
Kambi was successful across an intensive bid process, and the strength of our core product, extensive range of empowerment tools which allow the lottery to control crucial customer-facing elements and record of commitment to the highest levels of corporate probity and sporting integrity saw us selected.
Our partnership-driven approach was key, as the lottery did not want a sports betting partner that was too rigid. Kambi was chosen to facilitate the transformation of the operator's 'Scooore' sports betting brand. Our differentiation capabilities enable our partners to follow their strategy, and precisely align the sports betting offer and user experience to their existing brand should they choose to. Our track record of empowering operator differentiation is clear, and it is the flexibility and scalability inherent in our technology that underpinned our successful tender to the lottery.
In terms of whether there are conflictions between the two verticals, sports betting can seem a riskier proposition to lotteries due to aspects including smaller margins. However, progressive lotteries understand that one of their key competitive advantages is a having a significant database, large sections of which will have an interest in sports betting. They would be missing out on an important piece of the pie by not integrating a product that can be very complementary, while Loterie Nationale has a significant retail footprint through which to offer sports betting to its customers.
SBC: Breaking down products and services are there any shared dynamics or benefits between lottery and sports betting (two very different business segments)? 
SR: They are business segments with different characteristics, and differences do exist in terms of demographics, for example. However, there are clear advantages to a lottery in engaging both, and with the right product, mutually beneficial growth can be unlocked across both verticals, especially as lotteries continue to digitise their offerings.
Cohesive branding is the key, and engaging a sportsbook partner that reflects this is the crucial differentiator. Loterie Nationale's 'Scooore' sportsbook is an established brand in its home country, and the lottery recognised the capability Kambi offers empower a new-look offering across both online and retail as they look to take the brand to the next level.
SBC: As a technology supplier, has Kambi had to reform its systems to service national lottery operators that are structured completely differently to its traditional customers?
SR: We are always looking at new ways to innovate our services in order to meet different requirements. The scalability of our sportsbook was a telling factor in enabling us to secure a long-term partnership with a lottery that operates more than 300 retail locations.
This core scalability means that we can pivot our sportsbook to support online and land-based operators of any configuration. By way of example, Kambi has established itself as the leading supplier of sports betting technology to casinos in the US regulated market, while also launching in more than 2,000 retail locations with ATG on the first day of Swedish market re-regulation in January 2019.
Kambi's accomplished record and ability to support retail footprints of any shape is clear and was central to our selection by Loterie Nationale.
Suggested Video
Sarah Robertson spoke with Focus Gaming News earlier this month, touching on a range of topics including Kambi's recent partnership with Belgium's The National Lottery and how Kambi will be helping the lottery to take its 'Scooore' sports betting brand to the next level.
SBC: At a European-level debate focuses on how member states should harmonise market rules on standards and competition. How should conditions be formed for national lottery operators?  
SR: It makes sense to focus on harmonisation. In terms of standards, it's beneficial to take learnings from other jurisdictions and apply to them to your own in order to raise the bar. And once those standards are established, the fairest thing from a competitive perspective is to ensure that playing field is level for all, be you a lottery or a private operator.
Lotteries are in an interesting position here as by and large they have been in a monopoly position historically, something which has no doubt been beneficial to them from a competitive perspective. However, this situation has often meant that there was no real driver for innovation in their proposition to customers so when markets open up as in Belgium, lotteries can be overtaken pretty quickly by operators bringing more advanced products to their domestic market.
Yet lottery operators still have a number of advantages that they can leverage, for instance an expansive retail network or their long-standing relationships with consumers. Kambi partnering with Loterie Nationale gives them a world-class product to strengthen their position further still.
SBC: Finally, beyond unprecedented 2020 circumstances, how will Kambi proceed to within the complicated landscape of servicing national lottery operators?
SR: This year has certainly posed its challenges to the sports betting industry, but our Q3 report, which showed revenue growth of 22% and a rise in operator turnover of 62%, underlined our resilience to those challenges and ability to efficiently respond not only to the lockdown situation, but also ensuring resources were in place as major sports returned.
Partnering with forward-thinking lotteries is an important part of our strategy, and chimes effectively with our product and compliance-driven approach. We're excited about the potential of our partnership with Belgium's Loterie Nationale and look forward to building on this momentum over the months to come.
First published by SBC News and written by Ted Menmuir.